Sydney, Australia Wednesday 5th October 2016: TappnEd is proud to announce Surf Life Saving Australia (SLSA) will be using the TappnEd mLearning interactive video platform as part of its emphasis on innovation in learning and education.
TappnEd's patented video platform will allow SLSA's members to view, engage and test themselves with fully interactive SLSA training videos on smartphones, tablets and desktops.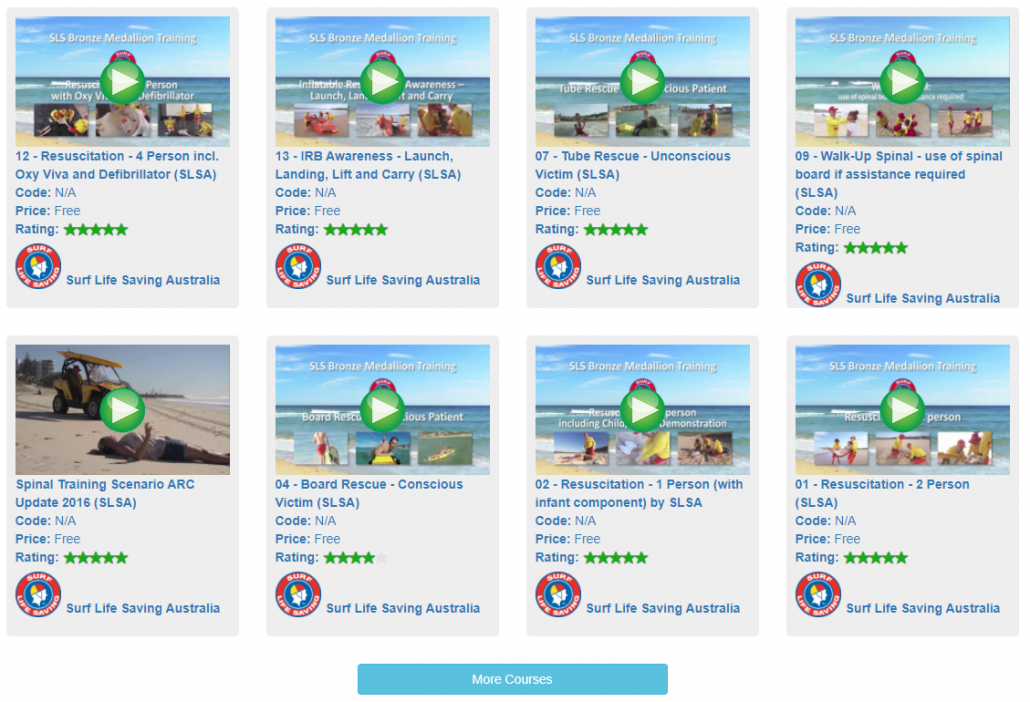 SLSA members can use the TappnEd interactive video platform for content and skills refresher training prior to their annual club organised skills maintenance programs, which are conducted in preparation for the start of the surf lifesaving season, and can do so on nearly any device, any time and from any location with internet access.
SLSA Bulletin 01/16-17 http://www.surflifesaving.com.au/news/slsa-bulletin-new-skills-maintenance-tools/bulletin-01-16-17-new-skills-maintenance-tools.pdf (Edit note: now inactive).
Bronze Medallion training videos currently used as training aids have been used in this trial program where refresher questions are all contained within the video frame as an overlay on the paused video content with smart phones or tablets adjusting dynamically to portrait or landscape orientation. No third-party app downloads are necessary as the system uses standard browsers and responsive design technology to deliver the interactive video question and answers.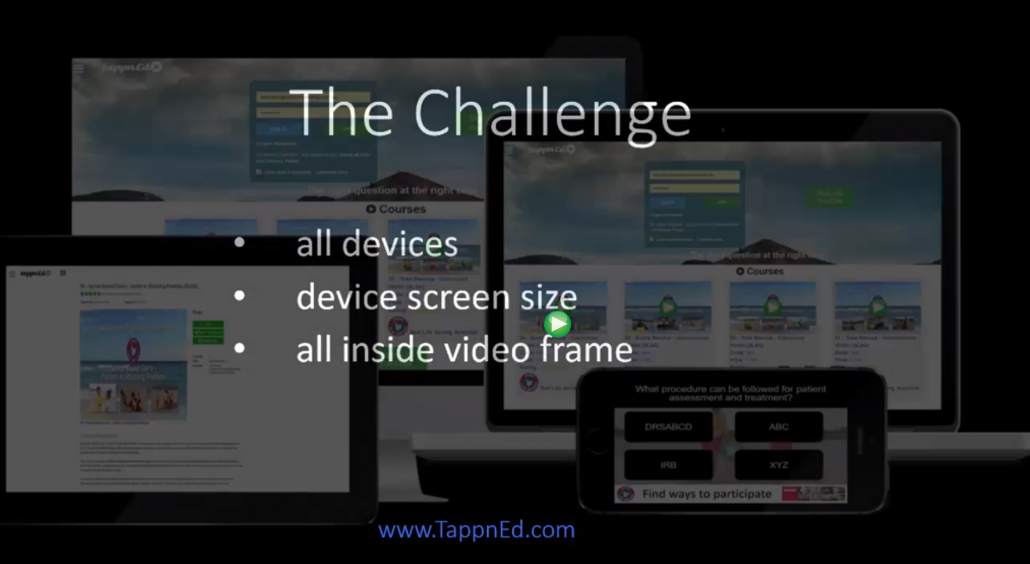 TappnEd allows educators to match learning points with interactive questions immediately after each other to test and reinforce knowledge.
Sometimes too many learning points and questions bunched together can saturate the learner with information which can produce an effect called "cognitive overload". In order to make the interactive video lessons relevant, questions are posed to the learner after individual learning points, thus avoiding the potential for cognitive overload whilst increasing learner engagement and knowledge retention.
"Part of the challenge with this project was ensuring that the refresher questions and answers would be legible when viewed inside the video frame on a smaller device, like a smart phone, yet still would retain the flexibility of responsive multi-device viewing."

– Sam Wilson TappnEd project co-ordinator.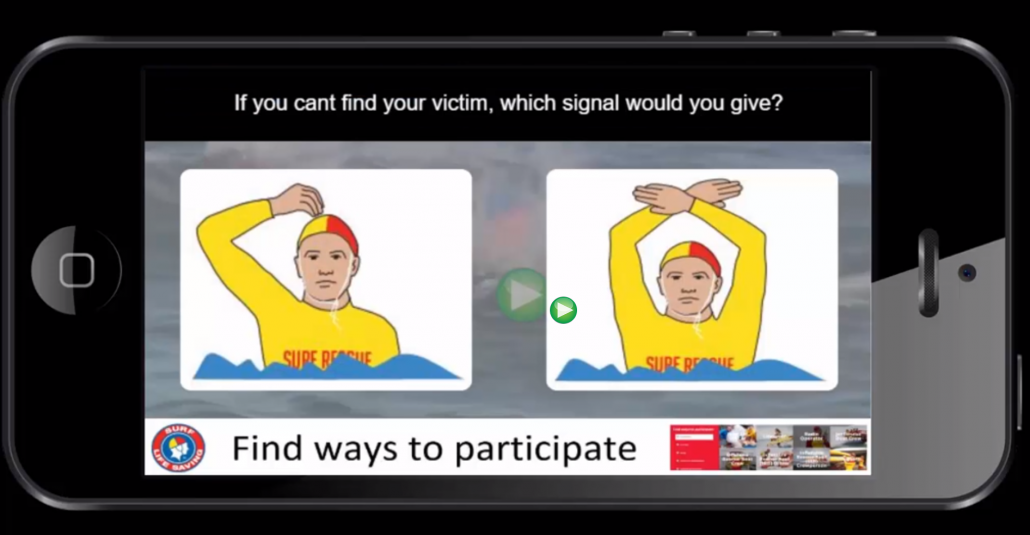 Now the challenge of limited device choice and proprietary technology dependence has been overcome, TappnEd can roll out interactive video learning and knowledge validation to any device. In the past many organisations used classroom-based LMS systems, typically Adobe Flash, but this limited the learner to only learning on a PC, within class time and at that location. With TappnEd mLearning the process of education and training can be conducted 24/7, with access from a smart phones, tablets and desktop all year-round.

"SLSA recognised the advantages of a 'mobile first' capability that enables members to conduct self-validation of existing or new knowledge, prior to their formal skills maintenance activity. We worked with the TappnEd team to ensure the interactive questions mapped to the course material and provided a useful method of easing the learner back into the SLSA mindset, whilst adhering to the national SLSA education standards."

– Pamela Simon, SLSA Learning and Development Manager.

TappnEd utilises standard browser based technology with the main system hosted on Amazon Web Services facility in Sydney, Australia (a division of Amazon NASDAQ: AMZN).

"We chose to use Amazon Web Services as our hosting provider as it represented the most flexible and widest variety of complementing technologies to support our video-specific platform." – Sam Wilson, CEO of Urban Marketing, the parent company of TappnEd.

"Its been a long journey, starting with the support of the NSW Government Department of Innovation and Industry, to the feedback and partnering with SLSA, through to the courses we see today. It's now a no-brainer for Educators to use TappnEd to push video learning to smart phones."


– John Forrester COO of Urban Marketing.
The complete list of SLSA skills maintenance interactive videos are here:
SLSA video lesson weblinks
1 01 – Resuscitation – 2 Person (SLSA) https://platform.tappned.com/course/45
2 02 – Resuscitation – 1 Person (SLSA) https://platform.tappned.com/course/46
3 04 – Board Rescue – Conscious Victim (SLSA) https://platform.tappned.com/course/47
4 05 – Board Rescue – Unconscious Victim (SLSA) https://platform.tappned.com/course/48
5 06 – Tube Rescue – Conscious Victim (SLSA) https://platform.tappned.com/course/49
6 07 – Tube Rescue – Unconscious Victim (SLSA) https://platform.tappned.com/course/50
7 08 – Spinal Board Carry – Victim in Water (SLSA) https://platform.tappned.com/course/51
8 09 – Walk-Up Spinal – use of spinal board if assistance required (SLSA) https://platform.tappned.com/course/52
9 10 – IRB Lift and Carry (SLSA) https://platform.tappned.com/course/53
10 12 – Resuscitation – 4 Person including Oxy Viva and Defib (SLSA) https://platform.tappned.com/course/56
11 13 – IRB Awareness – Launch, Landing, Lift and Carry (SLSA) https://platform.tappned.com/course/57
12 Spinal Training Scenario ARC Update 2016 (SLSA) https://platform.tappned.com/course/72
ABOUT SURF LIFE SAVING AUSTRALIA
Surf Life Saving Australia is Australia's peak coastal water safety, drowning prevention and rescue authority.
With 169,633 members and 313 affiliated Surf Life Saving clubs, Surf Life Saving Australia represents the largest volunteer movement of its kind in the world.
Surf Life Saving is a unique not-for-profit community cause that exists through community donations, fundraising, corporate sponsorship and government grants. Since Surf Life Saving was established in 1907, over 630,000 people have been rescued by our surf lifesavers.
For further information please visit www.sls.com.au
ABOUT TAPPNED™
TappnEd is the interactive mLearning video system designed for the "mobile first" strategy of eLearning. TappnEd can be used for formal VET based assessment, soft skills or knowledge enhancement.
TappnEd has learner management features including invite, marking, nested lessons inside courses and social media integration. Interactive call to actions can be inserted into various points of video which serve to test learners understanding of video learning points. Content is viewable on all major browsers, on any device, and in a fully responsive mode. TappnEd is accessible 24/7 x 365 days per year.
Our motto "any device, any where, any time".
TappnEd is owned by Urban Marketing Pty Ltd, based in Sydney Australia.
For further information please visit www.tappned.com
Contact: Sam Wilson, CEO Urban Marketing

https://tappned.com/wp-content/uploads/2016/07/tappned_logo.png
0
0
Sam Wilson
https://tappned.com/wp-content/uploads/2016/07/tappned_logo.png
Sam Wilson
2016-10-05 07:36:08
2020-10-26 08:12:38
Surf Life Saving Australia to use TappnEd mLearning interactive video courses for skills maintenance refresher training