12th December 2017 – What is SEM and why do you need to know about it?
As part of our Educator Highlight Series we have our resident Search Engine Marketing (SEM) expert and trainer Olha Andriichuk giving us an insight into "Why you need to know about SEM" in the following article. Part I of the Search Engine Marketing course also can can be found here https://platform.tappned.com/course/138
…Firstly, let's answer the first question – "What is SEM?".
SEM stands for search engine marketing. In simple words, it is a complex set of tools and methods of website promotion through paid ads at search engines.
This term also used as an umbrella term to incorporate both paid search activities and SEO (search engine optimization). These days SEM is an important internet marketing tool for generating sales and receiving conversions of various types for a large number of businesses.
And we have a list of 3 most important reasons why do you need to learn more about SEM in coming 2018 to be successful:
1. E-commerce is on the rise today.
2017 is exceptional, as this is the first year that online purchases will exceed in-store sales.
This year shoppers pl
an to spend 51% of their holiday budget online, compared to 42% in-stores, according to Deloitte's.
Search engine marketing skills will help you be up-to-date in this growing online market, whether you are an entrepreneur or an average person with eager to knowledge.
2. Precise targeting and measurable results for your marketing efforts.
When it comes to web dimension there is one vital rule: traffic is good, quality traffic is better! A wonderful thing about SEM is that people are already searching for a product or service that you offer using specific keywords when they can see the ad. The ads are targeted and you will only be charged when the audience clicks on your ads. That makes paid search such a flexible and efficient tool for boosting sales.
With increasing importance of e-commerce (it is growing in average on 23% year-over-year), there are 46% of small businesses that do not have a website. That leaves quite a lot of place for new projects to rise. With knowledge of SEM, you can win a large room for your business on the World Wide Web while it's still reachable.
3. You can go global.
One more advantage of SEM skills is that it's portable and global. If you have that knowledge you can apply it to the variety of projects. Industry and size play less part once you have researched the market properly. More important is to know exactly what are you promoting and who are your target audience. And all your work can be done online. It sounds great, doesn't it?
Are these reasons convinced you? If the answer is "No", there is one more reason that we have prepared as a dessert: you can learn SEM online on the TappnEd platform!
Recently we have launched exclusive "Basic SEM" course for beginners from Olha Andriichuk (Digital Marketing Director at Dinamicka Development).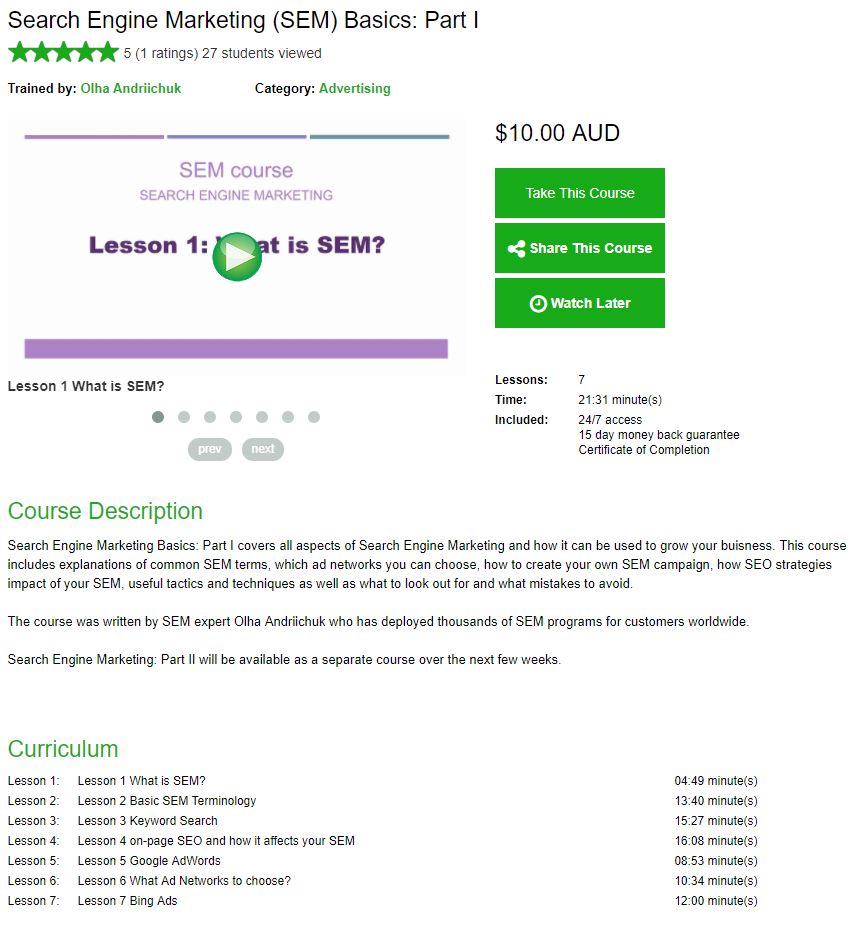 This course will give you core information on main search engine marketing methods and tools, such as:
– keyword research;
– semantic core creation;
– on-page search engine optimization;
– Google Adwords and what network to choose there;
– Bing Ads campaign set up.
To do the SEM Course click here https://platform.tappned.com/course/138 .
https://tappned.com/wp-content/uploads/2016/07/tappned_logo.png
0
0
Sam Wilson
https://tappned.com/wp-content/uploads/2016/07/tappned_logo.png
Sam Wilson
2017-12-12 10:20:30
2020-03-29 10:27:40
What is SEM and why do you need to know about it?